Shortlist Showcase:
Bridges is shortlisted for Website of the Year 2023
Meet Bridges, one of four of our estate agent website clients who are Shortlisted for WEBSITE OF THE YEAR at The Negotiator Awards 2023. Huge congratulations and good luck in the finals! 
Bridges is an independent, colourful agent with branches across Hampshire and Surrey. The Bridges website is a true reflection of their approach - bright, bold, powerful. It is vibrant, fast and feature-rich with a host of integrations that add value and benefit customers and visitors.
What impact has the website had on business?
Since launching the website, Bridges have expanded the business by adding two new branches to their network, thereby increasing market share.
They have seen a 200% increase in the volume of valuations coming through the website, and in turn, an increase in conversions from web derived valuations. A phenomenal result. 
James Baldry, Group Managing Director of Bridges says that showcasing the website to any vendor in any price bracket leads to a positive response and ultimately the instruction.
How did Bridges promote their new website?
Check out this video we created for Bridges to help them launch the website - SOUND ON!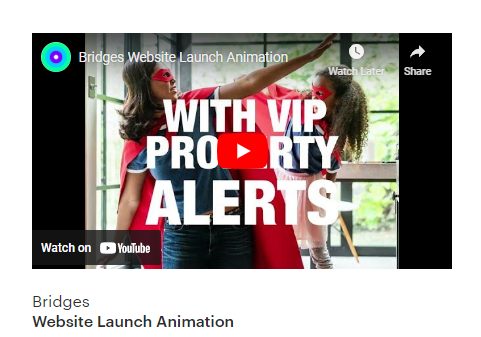 Technical goals and priorities during the website build process
The Bridges estate agent website is vibrant, superfast, fully responsive and feature-rich. From a design perspective it has the unique Bridges branding and photographic style, a well thought out fully mobile responsive layout with carefully considered modules and features.
Designed from the ground up to capture leads, the site hosts eye-catching, lead generating forms which not only feedback customer data via email to the many branches, but also into the property CRM saving precious time.

Our proactive relationship with James and the team at Bridges means we continue to evolve the website on a regular basis, tweaking, optimising and introducing new features that improve performance and give Bridges an edge in their marketplace."
Good luck to James and the whole team at Bridges on the 24th November when the final winners are announced. 
You can read more about how we built Bridges in our case study.
Visit the Bridges website HERE.